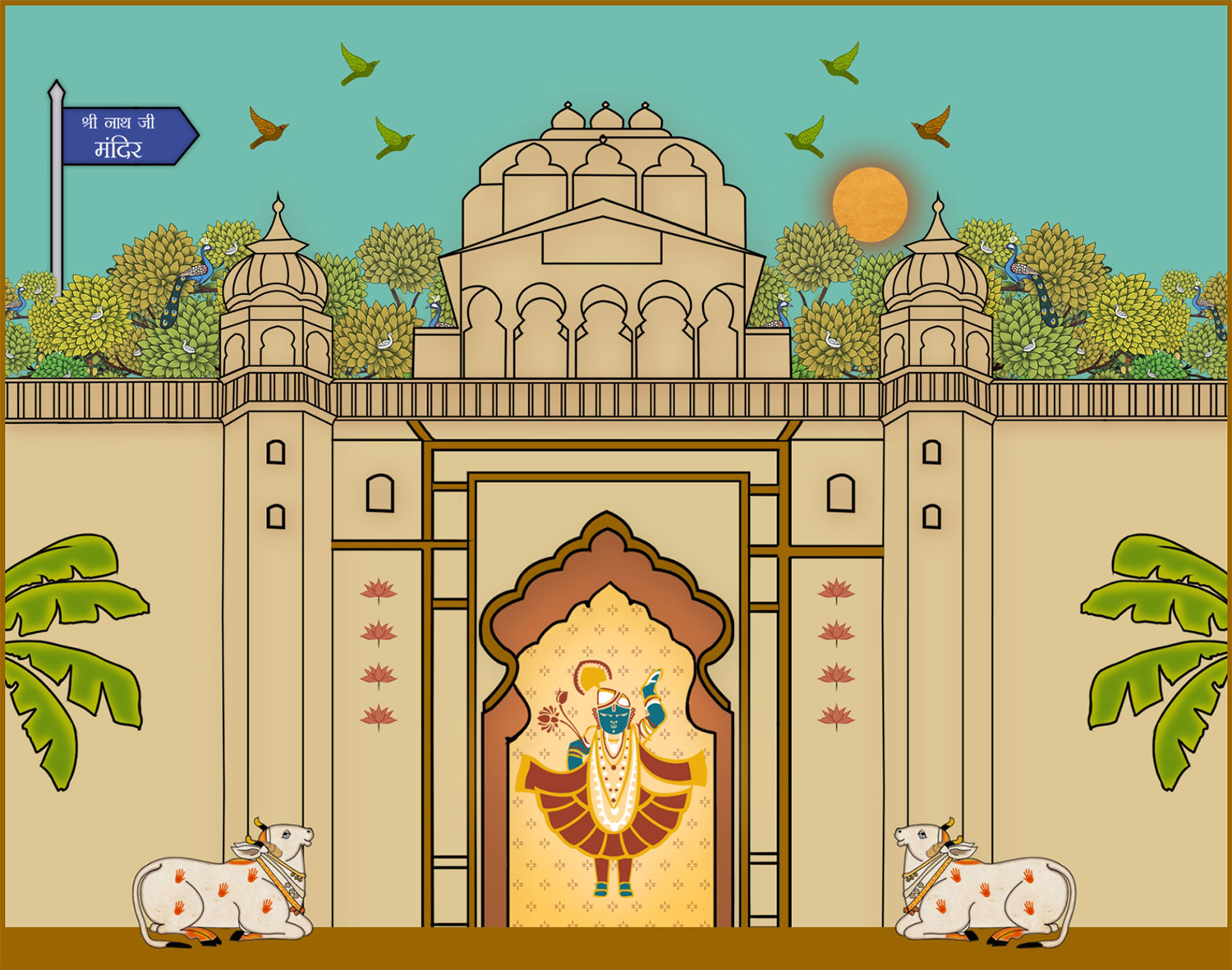 DID YOU KNOW?

Part - I
Shri Vallabhacharya, founder of Pushti Marg encountered the svarup of Shreenathji on mount Govardhan, Mathura, UP. Shreenathji is considered to be a living embodiment of 8 year old Lord Krishna shown as lifting mount Govardhan above his head with his left arm while holding his right hand by the waist. The deity was moved to present day location, Nathdwara, Rajasthan in 1670 & a shrine known as "Shreenathji ki Haveli" was built in 1672.


At Nathdwara, Shreenathji is treated as a child and all the activities of the shrine commonly known as 'Shreenathji ki Haveli', revolve around the activity of a 7-year-old child. He is given treatment like shringar or food in a way just like a mother would do to her child. The devotees worship Him with music, poetry, dance, drama & paintings. Shreenathji is muse in Pichwai paintings & is inspiration for Pichwai tradition & culture.


Since Shreenathji is considered as a living embodiment and not worshipped as an idol, the place where svarup resides is known as'Shreenathji ki Haveli'. The reason there are no temples in Pushti Marg. Economy and livelihoods in Nathdwara town revolve around the Haveli


Haveli of Shreenathji in Nathdwara is modelled on the mansions of oppulent Rajasthani kings and merchants meant to serve familiar, domestic environment of Krishna's home in Vraj. The structure is very different from a regular temple & consists of multiple courtyards, associated temples, labyrinth of rooms, courts, corridors, gardens, pools, halls and kitchens.


Pichwai, literally meaning "displayed at the back",is a decorative cloth painted, embellished or embroidered, suspended behind Shreenathji's svarup in havelis. A Pichwai normally corresponds with the particular way in which Krishna's seva is being performed at a given time in a day.


Pichwai is a miniature form of art with minute intricacies and made with a lot of precision. One can see the seamless efforts of the artists. Even the smallest mistakes can be easily detected, so the artists have a definite posture, of how to sit and make.


A day at Shreenathji ki Haveli is divided into eight darshans. Each darshan is performed with its own exquisite shringar (adornment), rag (poetry with music), and bhog (food offerings) and is planned with keen attention to season, the time of the day and mood of the child God.


The main source of inspiration for making Pichwais used to be 'Haveli Sangeet', (devotional music sung during each of the eight daily darshans) or based on what the tilakayat (head priest) narrrated to the artists. They, then replicated that imagery, the sketches were approved and only then painted.


A Pichwai is generally painted on a starched cotton cloth. The first stage in creating a Pichwai is know as 'tippan' where the first impression of the painting is laid down with the help of kalam (brushes made with horse and squirrels' hairs ) or charcoal pencil. The drawing is then coated with layer of chalk or kharia as they call it locally. This ground seals the surface for later colours and sets the initial drawn image. Several coats are applied for cloth Pichwais while a single coat is applied for paper Pichwais.