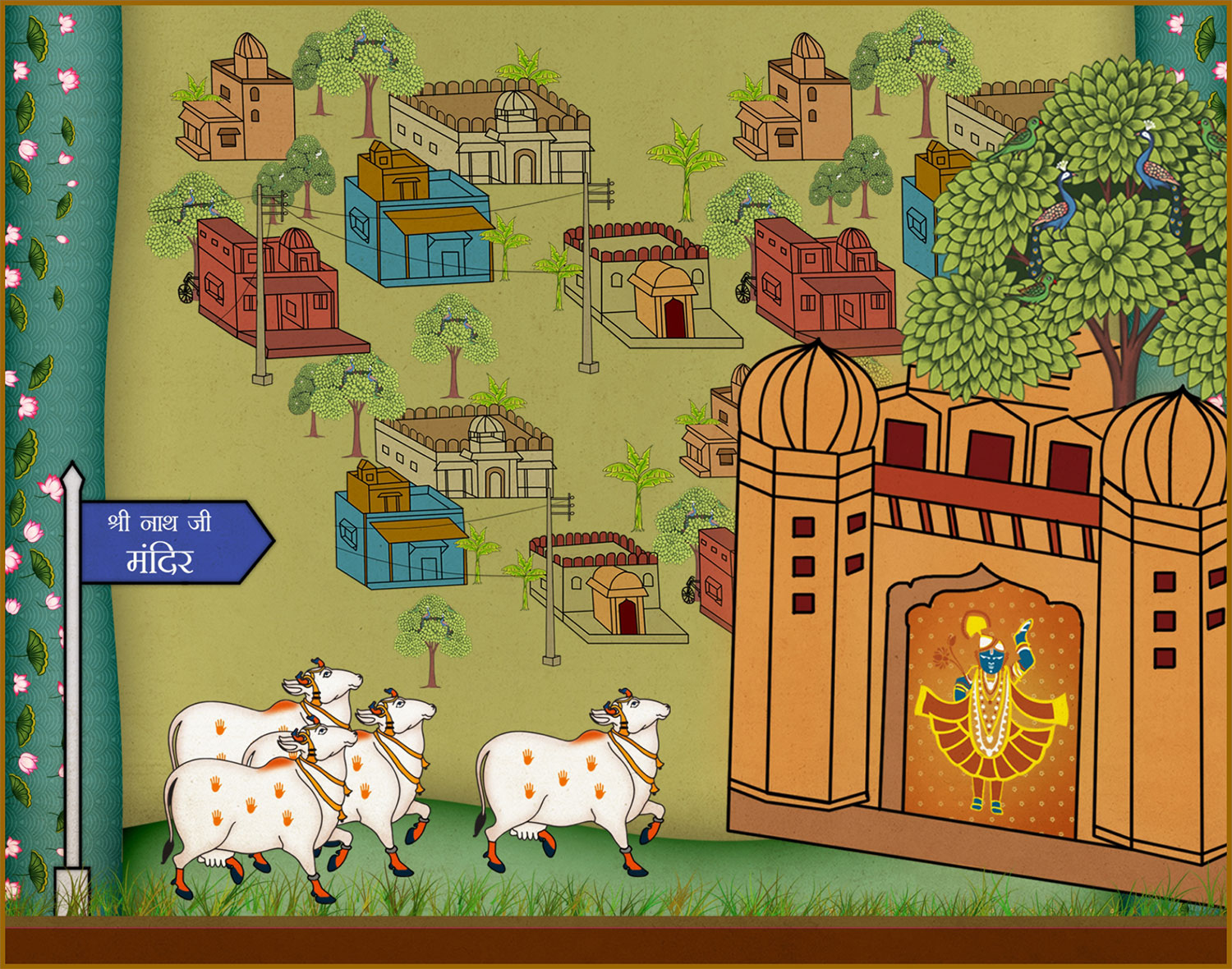 DID YOU KNOW?

Part - II
The Pichwais used to be made with natural colors extracted from flowers, leaves, coal, iron, indigo, saffron, zinc and other natural sources but since the makers of natural colours did not pass down the proper knowhow, they got lost in time and also due to budget and time constraints they got replaced with commercially available ones. Though pure gold and other precious metals continues to be used till day.


The old name of Nathdwara was 'Sinhaad'. It was when the Shreenathji's Haveli was built in 1672 that the village came to be known by its current name meaning 'Gateway of the Lord'. It is situated 48 Km from Udaipur on the banks of river Banas. Nathdwara is a significant Vashnavite Shrine pertaining to the Pushtimarg. Nathdwara town itself is popularly referred to as "Shreenath Ji" after presiding deity.


Nathdwara is rich in art and culture and is the heart of Pichwai paintings. Almost each home is a studio of art. Nathdwara style of Pichwai is a distinct form because of portrayal of the artists' love and affection for God. But sadly, of late handpainted Pichwais are replaced by gaudy images of Shreenathji made of wood & plaster. To find good Pichwais one needs to hunt streets behind temple or further away in Udaipur or Bhilwara.


'Chitra Seva', worship of painted representation of the actual svarups is encouraged and considered an important form of worship in Pushtimarg, since Pichwai paintings served as accurate records of darshans.This serves as a proof that artists started painting Shreenathji quite early followed by other subjects like festivals and leelas.


Pichwais can be divided into 2 broad categories- Decorative and Narrative. Decorative Pichwais are the ones which are always woven or embroidered and used in winter and spring seasons while Narrative Pichwais are painted ones used in summers and fall. The Pichwais related to various utsavs and leelas fall in this category.


Kamal Talai Pichwais are Lotus Pichwai paintings which shows the curling stems of lotus plants and fanlike leaves, and the numerous bees flitting from flower to flower - symbolising Lord Krishna in playful interaction with His beloved Gopis.These are hung in the haveli during summer months to create a cool atmosphere, helping devotees visualize lotus ponds and the banks of river Yamuna.


During the summer months, light coloured Pichwais like Jal Vihar or Nauka Vihar which means 'boating sports' are also hung behind Shreenathji in the sanctum which are meant to provide respite to child God from sweltering heat. These kind of Pichwais are also created in lace technique, owing to its lightness which is appropriate for the season.


Devotion to Shreenathji reached its apogee in 18th century soon after the child God arrived in Nathdwara with many rulers of princely states like Udaipur, Bikaner, Jaipur, Kota, Kishangarh becaming God's ardent devotees.This lead to rise in the riches of Nathdwara resulting in Pichwais being painted on precious clothes in liquid gold and silver.


Traditionally Pichwais used to be large in size and were hung only in haveli. But with the passage of time artists started painting smaller versions of Pichwais on both cloth and paper. Since there are no rigid rules on hanging these auspicious paintings and given their smaller sizes they found their way to museums and homes of devotees. Many art connoisseurs, too, buy Pichwais for their visual appeal and not necessarily for religious beliefs.